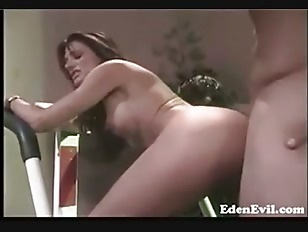 I got the chance to talk with Sydnee and see what she's been up to lately and what her plans For fans who may not know a lot about your background, can you give us a brief summary of how you got involved in the adult industry? It was back in about I tried a movie out in Texas called "Queen's Challenge". I had a friend named A. Crowell, who owned a publication called Sundown, and she's invited me to a lot of different adult parties. That's kind of where it starts. And at what point did you get in contact with some of the studios on the West Coast about doing work for them?
And that's when I first met him, and he was shooting a movie called "Flashpoint", which is a big Jenna Jameson movie. I told him I was interested and asked him if I could come out - so it was my first big feature and he introduced me to a lot of different people. Were you a fan of porn before you got started in it? Were you familiar with some of the names in the industry?
I had seen a couple movies. I had seen one with Tori Welles in it, and she was just amazing. You established yourself in the business not as a contract girl, but by doing work for a lot of different studios. What made you decide to pick Wicked Pictures as a home and start doing movies for them exclusively? I had worked in most of the big movies that were shot by Wicked over the time period I was in the industry. I was in most of them.
I got to know everyone out there and had gotten to the point where I was wanting to feature dance a little bit more and make more appearances, and I knew that Wicked was the best company to do that with.
The options for a contract wouldn't have crossed my mind with another company. They're the only ones I talked to, and the only ones I would have talked to - because they treat their girls with the utmost respect, and you have a little bit of creative control over your pictures and always have control with whom you work with. Of the performers you have worked with - male and female - do you have any personal favorites? Pretty much anyone you see me work with is always a favorite.
But I definitely like Devinn Lane. Stephanie Swift is always adorable. A lot of them actually ended up with Wicked Jessica Drake has been one of my favorites for years. And the male performers Evan Stone and Brad Armstrong. Is there any talent you'd like to work with that you haven't had the opportunity to work with yet?
You know, I can't think of anyone actually. I'm not sure who a lot of the new people are. Sexually speaking, do you have any favorite positions or scenarios that you enjoy doing in front of the cameras? And I actually like being submissive. And as a follow up to that, do you have any fantasies that you'd like to try on film that you haven't done yet?
I've had a lot There's a lot of things with fetish that I'd like to do. Most of the work you do for Wicked is in the adult feature genre - which means there's often a lot of dialogue and acting involved.
Is the acting part of it something you enjoy, or do you prefer just to do the sex? Oh, I have a great time acting. It's a ton of fun. It's great to create a new character and turn yourself into that - in the scene and during the dialogue bits. I know a lot of the talent - and even some of the girls you work with at Wicked - are getting involved more with the production side of things Have you ever written or directed any of your titles - and if not, is this something you'd like to explore in the future?
Off the cuff, I've been in movies and while I'm there I've done things there Things like, "Oh, we could do it this way. And more than anything, I like to work with the concept, and then let someone else write it. And as far as your future goes, I'm sure there's a time when you'll want to stop performing.
But is staying in the industry in some capacity something that you're looking to do? I'll always have a little piece of it. It just depends on the depth. Of the movies that you've been in, do you have any particular favorites or ones that you're really proud of? You know, "Euphoria" is one of my favorites. I take it on the road with me everywhere, because it's got a combination of good acting, good sex and a lot of it.
That's my all-time favorite. And "Wicked Divas" has my favorite scenes in it And also I like "Island Girls", because there are the most gorgeous, gorgeous girls in it.
You've already mentioned "Wicked Divas" Devinn Lane and I paired up together and we've put a script together specifically for me, which is kind of a cute little fun show called "Pillow Talk". And we've actually done a couple of casting calls for it, and because of scheduling we've had to move it It's about a bunch of girls and they go up to a cabin That actually leads into my next question, because I noticed over on your website www. I thought I'd give you the opportunity to talk about that in addition to what else fans can find on your website.
I like to give it my personal touch, because there's so much out there. So what I like to do is play a little bit It doesn't mean they're picking the person, but I can play with the idea of "Well, this girl had a lot of points, so maybe we should reconsider her.
So that's kind of what I did with that. And then I have a picture phone And I take pictures from all over, and you'll catch me in all kinds of different areas. So I do that, plus I'm getting ready to do a lot of cam shows.
We're just waiting for all my equipment to come in. As a closing question, is there anything else coming up that you'd like to mention or make sure your fans are aware of? Well, definitely "Wicked Divas". I think that my fans are going to find it really fun. And I recommend keeping an eye on my website. If you're a member you'll have a bigger bonus, but even if you're not, it does have a schedule on there that keeps you up to date with my appearances.
Articulate and insightful, the beautiful, deep brown-eyed Sydnee schooled me in everything from Spanish frottage to porn as therapy. She's a big Creed fan, but don't hold it against her, What's in your CD player right now? Ahh, you like the album? I do, it's really good. I've been a fan of there's for a really long time, so I was glad they came out with another one.
It took me awhile to get used to. Actually, at first I didn't love it. I have a friend that knows them, and I was like "their new album sucks" and they were like "it grows on you" and it does.
Have you ever seen them live? Yeah, I've seen them in concert like three or four times. That guy claims he has the greatest rock show ever. Is that what he's claiming? Yeah, are you backin' him on that? I haven't seen it this year.
Actually, I left Australia on Sunday and they got into Australia then. I was like "too bad for the timing, I could of caught a show out there. I spent two weeks out there starting in Brisbane for Sexpo and then went to Perth. And they're all fetishly dressed. It was almost like a pimp and ho party. We did our shows and it turned out well. I was a little nervous performing in front of that many people.
Usually when you're in a gentleman's club it's way more intimate.