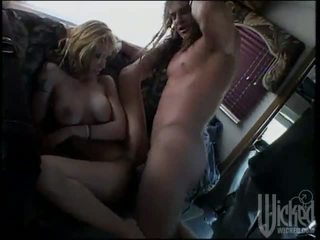 May 2 Email the author If not for the criminal twist, it would have been a routine outing: On an overcast day, Stephen Houk, 46, piled his 3-year-old son, month-old daughter and a dog into a tan RV and cruised some California highways. But trailing behind the bicycles attached to the back of the stolen RV were as many as 15 police cars, lights flashing. They would not let the large, tan recreational vehicle out of their sight — but also were unable to safely bring it to a stop.
Houk is a registered sex offender. He is presumed to be armed and, as of Wednesday, still on the loose. His children, whom he is accused of kidnapping, are safe, and were last photographed playing at a police precinct, moments away from being reunited with their mother.
She called police, and Houk took the children and a dog and fled on foot until he apparently found the foot Dolphin RV. Authorities are searching for Houk, a paroled sex offender, who led police on an hours-long chase Tuesday.
With such a big vehicle, reporters for NBC-affiliate KCRA opined , spike strips or an attempt to stop the vehicle by force could end disastrously for the young hostages inside or innocent bystanders on slick roads.
And there was another X-factor: Investigators believed the felon had a gun. If things got desperate, the children would be in even more danger.
Because of all that, a police spokesman told the International Business Times , officers were being as patient as possible with Houk. While newscasters spouted all those factors in grave tones, Houk looked rather nonplussed in videos that showed the inside of the RV. Some newscasts showed him talking on the phone as the RV ambled along, with a dog seated in the passenger seat. It had plenty of time to get comfortable.
By then the chase was nearing the four-hour mark. It was unclear whether Houk was headed anywhere in particular. As he left one jurisdiction and entered another, some officers would fall back and others would take up the chase.
But the chase — at least this part of it — was headed to an end. Police surrounded the RV and appeared to be trying to negotiate with someone.
When officers looked inside the RV, the two children were there, and so was the dog, but there was no sign of Houk. The children were taken away by police, and officers began trying to reconnect them with their mother. A short time later, authorities made the announcement: The children were safe, but the manhunt would continue.
Manhunt for suspect underway