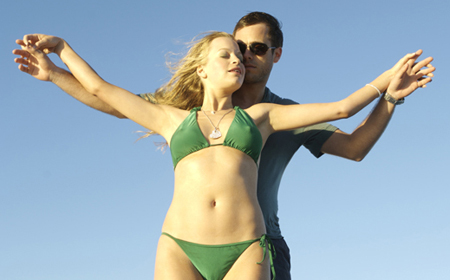 Spoilers From the sun-bleached fake Mallorca coastline all the way to sangria-soaked rough accents of young holiday Brits, Donkey Punch hits a tacky new high in English cinema. Donkey Punch is ultra-chic and blows conservative values out the water as we race around on a luxury yacht. The story's realistic, easy on the attention span, and appeals to regular Saturday night audiences, dates and popcorn.
The moral of the story, by the way, is not that you shouldn't film yourself having unprotected group sex while high on various drugs. But that you shouldn't invite your younger brother. There's no mad stalker. There's no deep-seated evil persona. There's just healthy young kids having a good time and accidentally killing each other.
Nor do we find any sexist connotations. Men and women are equal here. Both in getting their kit off and bumping up the body count. Says director Olly Blackburn, "We did a lot of old fashioned, journalist-style research. We went and spoke to people - yacht crews, DJs, and people up in Leeds and down on the South coast.
Kim, Tammi and Lisa are best mates from Leeds. Off on a girls' weekend. They're up for it, giggling, dancing and flirting. They meet up on the beach with three rather nice cockney lads. Marcus, Bluey and Josh.
Swigging champagne they've nicked, the lads boast about a luxury yacht they're crewing. They all get back there, where they're met by Sean, who's been looking after things on deck.
The girls are impressed and start spinning the DJ decks. The boys think of an excuse to give the owners if they take the boat out. At sea, you can play the music as loud as you want while swimming, sunning and doing a bit of social drugs ecstasy followed by something brown with a bit of a kick. So how does it all go terribly wrong?
Donkey Punch is an 18 certificate for 18yr olds, and refreshing in that it hasn't been watered down for younger kids or prurient American audiences. It makes no pretensions to be anything other than good entertainment.
As a debut feature, it hits the mark and is a welcome addition to the bourgeoning output of original British film. Was this review helpful?